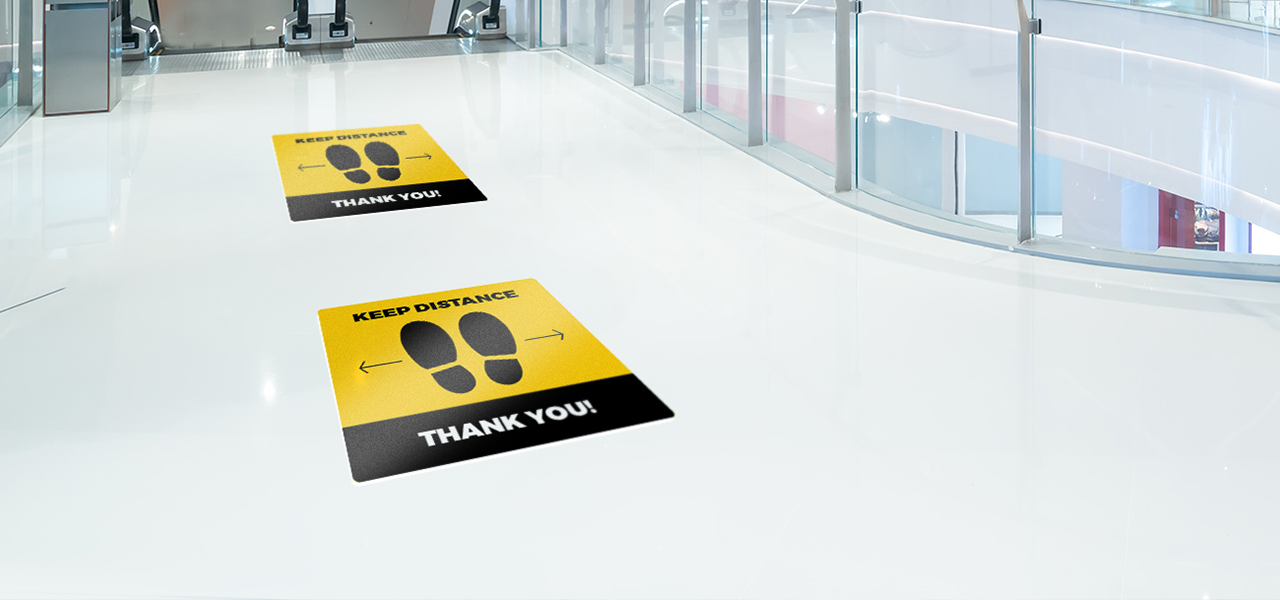 Floor stickers are an excellent advertising idea for shops, shopping centres, trade fairs and various events. They are also perfect for offices and for manufacturing and warehousing facilities. It is the type of advertising that can hardly go unnoticed. Floor stickers successfully catch the eye and engage passers-by. They come in any shape and size, which allows you to create truly unique designs.
We will print your floor stickers quickly, efficiently and in top quality.
We will help you pick an appropriate printing technology. The options include highly modern UV printing with lasting effects and the popular durable solvent printing. Both methods are characterised by high printing quality and long display time. After printing, the film is coated with an abrasion-resistant floor laminate.
Think of an idea for floor film and develop a strategy to use it effectively, we will take care of the rest!
What do we do for our customers, how do we help?
We provide comprehensive services through our wide range of products and the most modern printing technologies. We do everything quickly and efficiently in one place.
We help choose optimum solutions and we select appropriate raw materials and printing technologies.
We check if the files have been properly prepared for printing.
We submit installation overview files for acceptance.
We provide distribution for selected products.
We co-pack printed products as requested by the customer.
We offer various packaging possibilities.
We provide reporting on our services.
Do you want to surprise your customers with an unconventional message? Are you looking for an intriguing form of advertisement? Pick floor stickers and apply them easily on various surfaces, from ceramic tiles to paving blocks or tarmac. Use the floor to complement and reinforce your promotional or informational activities. Remember that floor stickers can also decorate your space. Exciting elements always draw attention and intrigue the audience, and this is what you desire. You can create smaller single stickers (roll width 150 cm) or compose a huge design made of several elements combined together in the sticker application process.
The print on floor film is characterised primarily by highly intense and lasting colours and incredible durability. The 200 micron film is resistant not only to mechanical damage but also to any type of detergent and chemical so you can clean the floor without worrying that the print may become damaged or compromised.
Floor film also has a sandy matt texture. It is covered by matt laminate to preserve the desired effect for a long time. It is also easy to apply, on both small and large surfaces.