23.05.2021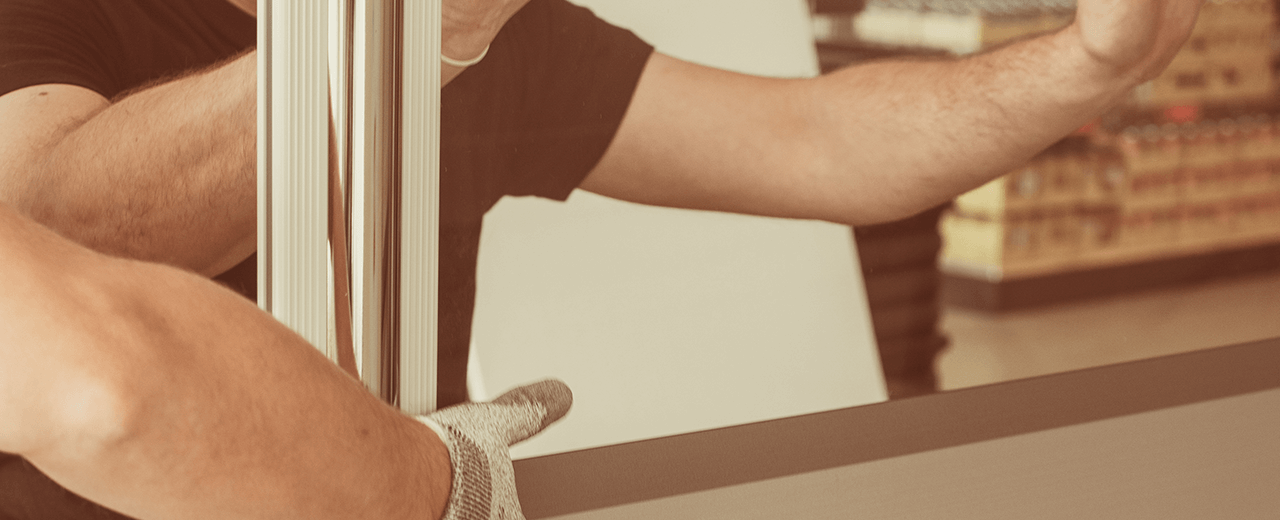 Remodelling of commercial and service space
– how do you make it a success?
Regular remodelling of a shop, supermarket or customer service point is an investment that pays off. After all, the purpose of interior design is to attract customers and encourage them to make purchasing decisions. Buyers are paying more and more attention to their surroundings. They are more willing to spend money in places where they feel good, which they like, and which offer many amenities and at the same time are modern and tastefully arranged. This applies to single local points of sale and to large chain stores in equal measure.
Remodelling is the response to the expectations of contemporary customers. The changes taking place in their consciousness have rendered it a regular element of marketing activities in the commercial sector.
Functioning in such a competitive environment does not leave any choice. Nowadays, even the lowest price does not guarantee maintaining the market position in the long run. Being competitive is no longer just about money; what also matters is the feeling of comfort, functionality and the atmosphere of shopping.
Is now the time to remodel?
The need for reorganisation, modernisation or visual changes in an establishment is often implied by the behaviour of the customers. Their visits have become less frequent and shorter. Marketing departments of large retail chains constantly strive to regularly redesign their brand stores in accordance with the latest trends. They survey the expectations of their recipients and they try to design the commercial or service space to meet as many of them as possible. This is an incredibly important element of the whole process so consider hiring professionals to analyse the profiles and needs of your visitors and prepare a revamped concept of your interior design. One that will be followed by increased sales and number of customers.
Every establishment should change its appearance every 3–4 years. Developments in the visual area are often accompanied by extra improvements for customers or by change of equipment or advertising infrastructure. This is also an excellent opportunity to launch new products or introduce new suppliers. Customer preferences evolve rapidly in this area too.
Nothing without professionals
Once a team of architects has created a new design for your establishment, you must choose the contractors to make the ambitious plans of the designers come true. Construction crews, electricians, groups in charge of shelves and, last not least, crews installing advertising architecture components in the facility. Such components both decorate the shop and build the brand corporate identity. Well selected service providers guarantee efficient and timely remodelling, which is something everybody wants.
Colours Factory not only prints a wide range of advertising elements for modernised and newly opened establishments but also installs them in the target location. "We install decorative panels, boards, signs, banners and pylons. We apply wallpapers (including 3D wallpapers) in commercial and service facilities and affix film on shop windows, refrigerators and other equipment in the establishment", Colours Factory's Commercial Director, Tomasz Kieszek. Due to our various printing technologies, the company can quickly transform any shop in Poland or abroad. We have our own team of over one hundred qualified indoor and outdoor advertisement installers nationwide.
While choosing a partner, make sure to check if they have sufficient capacity to complete the task. Appropriate experience, preferably on previous projects, is also important to guarantee timely and flawless job completion. Any downtime entails substantial losses, not only financial but also image-related.
A time-tested way is not the only way
Modernisation of a facility is not an overnight job; its duration depends on a number of factors. In this case, the most important aspects are the number of points of sale owned by the chain as well as the complexity of the facilities in question and the complexity of the areas to be modernised. Importantly, basic decorative primary elements are not the only thing that matters; safety and direction signs are also needed.
The people in charge of chain remodelling sometimes choose a shortcut and try to reuse the same or similar solutions. However, novelty is essential to stay ahead of the competition. As Kieszek says: "We listen to our customers, give them advice and suggest the best solutions. We understand how important it is to set the trends in the industry so we often encourage our clients to introduce new ideas, in terms of both raw materials and technologies. In the contemporary market environment, it is necessary to offer more than just printing services, and as such, we do offer more. We verify and support the needs of those people who have trusted us. We deliver effective and comprehensive printing solutions based on years of experience and our own innovative tools. Our customers enjoy original remodelling effects, even in the largest chains."
If you want to remodel, choose the latest solutions! These days, companies are increasingly often deciding to use various environmentally-friendly alternatives for the classic plexiglass or dibond panels. One of them is dispa, which is a panel made entirely of paper. It is much lighter than other materials and eco-friendly, which is a sought-after quality nowadays. Dispa is perfect for any suspended advertisements and after the display is taken down, it is fully recyclable just like waste paper.
Remember to test
Trials and all kinds of tests are one of the most difficult stages of the whole chain remodelling process. They involve choosing appropriate raw materials, checking how the material behaves under various factors and assessing how the colours match. Such tests are often very time-consuming but it is good to have absolute certainty that our solution of choice is indeed the best option. This is an excellent opportunity to check how selected (often new) raw materials behave at different temperatures or in contact with various surfaces. Remodelling is a cyclical process – as soon as you finish one reorganisation stage, you often look for solutions for the next transformation. Tests for one chain remodelling project lasted almost 2.5 years before the optimum solution model was developed, and the modernisation works in all facilities took 14 months. This is a continuous process for us and the tests that we conduct are a very important element of that process.
Marketers who want their remodelling process to be effective and successful must first test every idea. Such projects are often large-scale and it is necessary to verify whether a particular idea has a chance to succeed, if it is technically feasible and if it will properly fulfil its role in the commercial space. The success of a project largely depends on the solution testing process. It often happens that the final design is not even remotely similar to the initial concept. The testing process is important enough in remodelling to deserve substantial time. The long testing phase is a result of the fact that the majority of printed products displayed in stores are non-standard products. And this is precisely why it is so important to choose a printing company that fully meets your expectations. Tomasz Kieszek assures: "Here at Colours Factory, we are not afraid to accept challenging and demanding jobs. People often say that we can do basically anything. Handling remodelling processes requires you to be not only a salesperson but also a builder, designer and manager of the whole project. Multitasking is a must here."
Pick good raw materials
Even the best design and time-tested service providers are not enough for the successful remodelling of an establishment or a commercial or service chain. You also have to choose the materials to be used at particular stages. They are of tremendous importance in the field of advertising infrastructure as well. The choice is not easy but it may prove critical from a number of perspectives. After all, materials must be considered not only for their visual aspects but also from practical, economic and environmental perspectives. The advertising market is developing very dynamically and it follows general trends, which is reflected in the raw materials used for the manufacture of particular elements of visual communication in points of sale.
Consult professionals to pick the optimum solution. "We advise our clients", Kieszek emphasises. "We are experienced, we have been in this business for over 15 years. But the most important thing is to first thoroughly explore the needs. We gather information about the installation site, intended purpose and planned duration of display of every element. We also check if the suggested display site is suitable for that ad medium and if the material of which it is planned to be made is not hazardous to the surroundings, because safety is the top priority. The information helps us match the materials to the expectations of our partner. After talking with us, customers often give up on the raw materials they initially considered appropriate." Material samples and prototypes of the expected elements are also very helpful. They provide a full overview of the final product and make it possible to modify it before the whole batch is printed.
Remember also that some raw materials are used for long-term displays and others for temporary presentations. Ones that are good for indoor purposes may not be suitable for outdoor advertising and vice versa.
The efficiency of the remodelling process is, of course, essential. But proper preparation for such a process in advance is equally important. It is crucial to choose a partner who can meet all of your requirements and verify if the concept can be implemented and function in our shop, and then successfully implement it. Well prepared and executed remodelling is an investment that pays off and often exceeds expectations.
Do you need extra information? Write to: offer@coloursfactory.pl.